November 21, 2021
Another amazing book, this one was written by a refugee who was imprisoned at the time. It is about his experience in the prison; something that had been totally covered up by the Australian government. At the time the book was published he was still in prison! It's exceptionally readable, interesting and engaging, but it does have some quite traumatic sections. It's has a beautifully written style interspersed with sections of poetry. You will certainly leave with very strong feelings for what people like this have been put through by our governments. I really gained a lot from reading it.
October 31, 2021
This was interesting reading, but probably overall not quite my kind of thing. I found the style quite stressful; but I do think that was the intention. The idea, I suppose, is to convey the chaoticness of reading Twitter every second; and constant changing of attention. But this is something that I personally find a bit stressful, and this was conveyed very accurately through the writing. I do think it had some nice jokes, and variously interesting bits of social commentary; and, as one review I listened to, clearly this author is very familiar with social media. But it's not one I'll likely read again. Might be of interest to those who want another perspective on what engagement with social media can look like!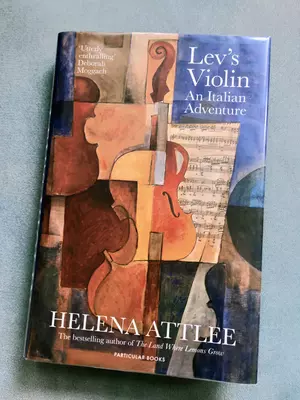 September 5, 2021
This book was enjoyable, easy, reading. I got fully immersed in the feeling of the violin culture; in the history and the way the author is follows the story through different towns and countries. This idea of just taking a journey dictated entirely by a spontaneous interest is very appealing. Really enjoyed it!
August 29, 2021
I really loved this book. I think it's interesting for a few reasons. One is that I haven't read many books where an autistic person is describing their feelings and experiences. It's really interesting to learn. Another part that really impacted me was his discussion of how young people are being forced to be more active and outspoken, but, ultimately, are excluded from important decision making, and that adults praise them, but inevitably continue doing whatever they were doing before. That comment hit me quite strongly, and I'm not sure what to do about it yet. Overall, an exceptional read, and will help you appreciate nature!
July 8, 2021
I really enjoyed this book, a lot. I can't say the ending was a surprise, but there were little bits of joy and insight to be had in the middle, and overall reading the book left me feeling uplifted and positive. A great book!
June 21, 2021
I'm not sure how to feel about this. I read this *after* The Midnight Library (which I really really enjoyed), so perhaps that meant I had very high expectations. I think this book is probably good because of how personal it is, and how honest and open the author is about his life and his feelings. I think while I don't agree with everything in it (for example my view would be a bit more Buddhist than what the author says they are comfortable with), I do think it adds some useful thoughts to keep in mind when you're feeling depressed and hopeless.
May 16, 2021
I was really surprised and amazed by this book. I saw Ariel Levy talk at the amazing festival in Melbourne. I didn't know anything about her, but the image I did form didn't match what was revealed in this book. Very thought and captivating, and a relatable account of one persons life and dreams. Definitely recommended reading for an insight into a life that is quite different from my own.
April 25, 2021
I love James Acasters comedy; his show Repertoire is one of the funniest I've ever seen; I also read his earlier book - Classic Scapes - which I really enjoyed, so I was already primed to like this one. It's quite different from Classic Scrapes; it's much more personal and vulnerable, which I really enjoyed; and it has a huge list of interesting music, which is great if you're like me and struggle to think of new artists to listen to! Great reading.
On the shelf — Newly obtained but not yet reviewed ...
All tags: