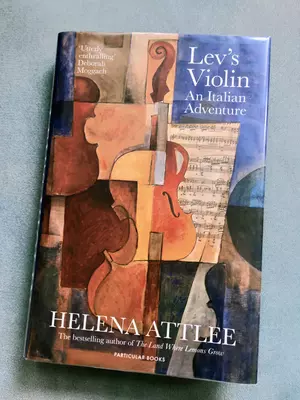 September 5, 2021
This book was enjoyable, easy, reading. I got fully immersed in the feeling of the violin culture; in the history and the way the author is follows the story through different towns and countries. This idea of just taking a journey dictated entirely by a spontaneous interest is very appealing. Really enjoyed it!
August 29, 2021
I really loved this book. I think it's interesting for a few reasons. One is that I haven't read many books where an autistic person is describing their feelings and experiences. It's really interesting to learn. Another part that really impacted me was his discussion of how young people are being forced to be more active and outspoken, but, ultimately, are excluded from important decision making, and that adults praise them, but inevitably continue doing whatever they were doing before. That comment hit me quite strongly, and I'm not sure what to do about it yet. Overall, an exceptional read, and will help you appreciate nature!
August 22, 2021
I found this book very interesting. One concept it introduced to me was the idea of "solidarity" instead of "support", in social causes. She makes the argument that it's better to stand in "solidarity" with one other, and for "me" to "support" you. Her argument, in part, is because relationships don't work strictly one-directionally. This spoke to me a lot. The bulk of the book is concerned with looking at how "counter-publics" - places where the public can be involved politically, but not necessarily supported by the government - work, examples of them, and how we can and should embrace them. I really like it; but it might be a bit "theory"-dense for some. Recommended reading, though, if you're interested in how people are being politically-active and how feminism should sit at the center of anti-fascism; also particularly interesting to get a Polish perspective on this idea; as it's not one I've heard before.
August 1, 2021
I absolutely loved this book. I love semicolons and I use them all the time. But the important things I learned from this book was how malleable grammar used to be; and that people used to think of grammar as a form of self-expression, instead of a strict set of rules, as we consider it now. It's also written in a very fun and engaging way with plenty of jokes. The best book you're ever likely to read on grammar!
May 23, 2021
This is a very hard book to read; and it contains some very traumatic stories. Nevertheless, I feel better having read it. I learned a lot about what domestic abuse looks like, and what people suffering from it have to deal with, and how to support them. Highly recommended.
May 10, 2021
An interesting discussion around how cities are not constructed for the enjoyment of everyone, and are gendered in various ways. Also raises some interesting arguments around how hard it is to balance privileging different groups when deciding on improvements to urban infrastructure. Overall, I was left a bit unsatisfied and was hoping for a bit more exploration of some possible answers; but certainly would still recommend it to get motivated and understand the space of problems to solve!
May 2, 2021
A thought-provoking analysis of the culture around consent and ability-to-know-ones feelings. Discusses the differences in how (heterosexual) sex and desire is talked about and researched. In particular the discussion centers around impersonal "objective" measurements of arousal and the conclusions from that; and what people can and should know about their desires; and how to manage expressing that to other people. Not conclusive; but a good contribution to a complex topic!
April 11, 2021
Exciting read! This is the first book I read on The Troubles, and while it doesn't cover the much of the background or the start, it does cover one the period of time by following a few quite interesting characters. I particularly enjoyed learning about the process some academics covered in the story used in order to try and record the history and details of the troubles, and the associated difficulty of doing that. Very interesting!
On the shelf — Newly obtained but not yet reviewed ...
All tags: